Moldy, broken tile. Outdated fixtures. Inconvenient setup. Do any of these phrases apply your bathrooms?
Let's change that. Cutting Edge Construction can bring your bathroom up to date. Do you like sleek and modern, or would you prefer traditional decor in an updated setting?
We meet you where you are on the design spectrum, and we make sure your bathroom meets us there too. It's refreshing to feel like you can breathe easily and relax when you enter your master bathroom or direct guests toward the powder room. It's an essential part of enjoying life in your home, and we're here to help make that happen.
Create a Peaceful Retreat in Your Bountiful, Utah Home
The bathroom is often where you begin and end the day. It should be a space you appreciate and enjoy to the fullest. From a waterfall shower to a jetted bathtub, from increased vanity space to extra-wide mirrors, your bathroom should welcome you and act as a sanctuary where you can appreciate the morning sun and prepare your mind for a restful night's sleep. Your bathroom is your retreat, and we can create the tranquil environment you need to enjoy your space.
Bathrooms are also important to prospective buyers. If you can't see yourself enjoying time in your bathrooms, your future buyer probably won't be able to either. Instead of showing them a bathroom they'll have to change, show them a space they will envy. Having he right bathroom contractor ensures your home will impress!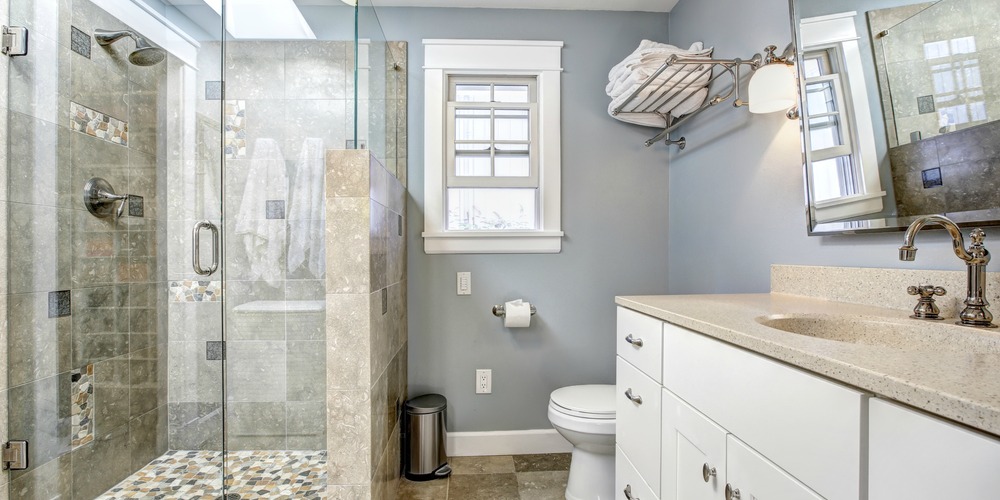 Coordinate Your Wishlist with A Trusted Bathroom Contractor
All our bathroom remodeling projects start with a comprehensive evaluation of your bathroom. What's working? What isn't? If we need to move plumbing fixtures, we can. If we need to reposition counters and showers, we will. It all comes down to creating a beautiful, useable space for you and your family, or a future homeowner.
Bathroom Remodeling — Where Luxury and Function Meet
The glimmering natural stone counters and shiny chrome fixtures you see in home improvement magazines aren't just for show. You can get this same upscale design in your Utah home — you just need Cutting Edge Construction. We deliver uncompromising luxury to our clients at every price point, but we don't let design interfere with function. The final product is a gorgeous balance of both beauty and purpose.
Make Your Bathroom Remodel Cutting Edge
Go beyond the dingy, outdated design you're settling for today — let's create a vision for tomorrow, together. Contact Cutting Edge Construction and get beautiful before-and-after pictures of the results we deliver to Utah homeowners just like you. Then let's talk about how we can meet your needs and leverage your creative ideas to build your new bathroom or kitchen.